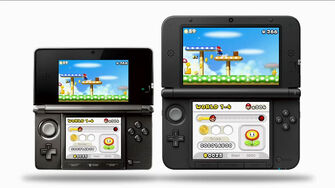 The Nintendo 3DS is a handheld gaming console made by Nintendo. It has a 3D mode and a 2D mode, the prior able to warp the screen into true three dimensional graphics. It has dual screens, one of which is a touch screen that can be used with a stylus. The 3DS uses an SD memory card for storing data. Unlike previous handhelds made by Nintendo, the 3DS cannot be used on a television. The 3DS comes in several different colors and two sizes, the 3DS XL being the latest, biggest, and best.
Lego City Undercover: The Chase Begins
Edit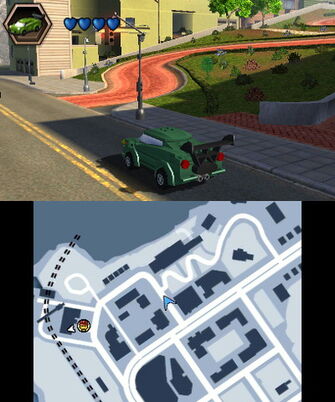 All of the gameplay takes place on the larger screen. The touch screen is used for the map and the police scanner. Thus the bottom screen feels a lot like the communicator that is used on the
Wii U
for
Lego City: Undercover
. However, the effect is ultimately a lot different, one of the reasons being that map trails are no longer apart of the game experience. Unlike in Lego City: Undercover, no light green studs appear to take you on predesignated paths, and many features of the communicator are not there. Also, the map is far harder to use.
While most of the controls are used efficiently on the 3DS, the Wii U is still far better at controlling the gameplay. Lego City: Undercover is a lot more precise, easier to navigate, and makes a lot more sense in general. Even still, you can definitely enjoy Lego City Undercover: The Chase Begins.
It should also be noted that Lego City Undercover: The Chase Begins takes advantage of the motion sensor in the Nintendo 3DS.
Related Pages
Edit
External Links
Edit