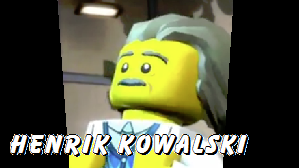 Henrik Kowalski appears in both Lego City: Undercover and Lego City Undercover: The Chase Begins. He is a famous scientist who works at a laboratory on Apollo Island. As an experimenter and an inventor, he is a very important man in Lego City. This attracts the attention of crime bosses in Lego City: Undercover, causing him to become abducted by Forrest Blackwell and Rex Fury. His abduction draws the attention of his daughter, who constantly focuses on rescuing her father.
Personality
Edit
Henrik is a calm and quiet man. He is difficult to disturb and has an easy going, relaxed demeanor. This makes it simple to get along with him. It is easy for him to concentrate and focus on even the hardest of tasks and he is very dedicated to his work.
His daughter is the unmarried Natalia Kowalski who is a news reporter in Lego City Undercover: The Chase Begins.
Related Pages
Edit